2013: Trump attending the Miss Universe pageant in Moscow. Photo: Irina Bujor/AP
to believe that Putin always knew he might install Trump in the Oval Office to find the following situation highly plausible: Sometime in 2015, the Russian president recognized that he had, in one of his unknown number of intelligence files, an inroad into American presidential politics. The Republican nominees from 2008 and 2012 had both run on a hawkish position against Russia (Mitt Romney had
the country America's "No. 1 geopolitical foe"). Now, on the fringes of the GOP primaries, there was a candidate opening up what was, from Putin's standpoint, a much-needed flank against not just Obama but his former secretary of State Hillary Clinton and her aggressive position against Russia.
Trump praised Putin's toughness and called for a thaw in relations between the two countries. At first, Putin likely considered him simply a way to goad his American foes. Then Trump captured the nomination and his value increased exponentially.
help Trump. After all, Russians covertly support allied politicians abroad all the time. Putin naturally sees intelligence work as central to foreign policy, and his foreign policy is fundamentally threatened by democratic, socially progressive Western Europe. During his tenure, Russia has formed overt or covert ties to right-wing parties in France,
, Hungary, Greece, and Bulgaria. France's right-wing party
(but not proved) to have taken funding under the table, too. More often, Russians intermingle financial dealings with political subterfuge in a complex web that appears superficially legitimate.
The closest model for how Russia covertly operates may be the Brexit campaign in the U.K., which took place months before the 2016 American election. Driving Britain out of the European Union advanced the decades-long Russian goal of splitting Western nations apart, and Russia found willing allies on the British far right. Not only did Russia
secretly several times with Arron Banks, the millionaire British businessman who supported the Brexit campaign, with the largest political donation in British history. Leaked documents
that the Russians discussed letting Banks in on a gold-mining deal that could have produced several billion dollars in easy profit. It might seem preposterous that a national vote that changed the course of British history was determined by a secret Russian operation. British conservatives long
suspicions of covert Russian involvement as a "conspiracy theory." Yet the conspiracy appears to have been very real.
Another useful model can be found in Ukraine, where a Russian oligarch backed the 2010 political campaign of the pro-Russian apparatchik Viktor Yanukovych. The effort to install Yanukovych prefigured many elements of Trump's campaign. His campaign exploited ethnic divisions and portrayed his opponent, Yulia Tymoshenko, as corrupt and the election as rigged. Yanukovych called for closer ties with Russia while obscuring the depth of his own furtive Russian connections. Most significant, the consultant brought in to manage Yanukovych's campaign was the same one who managed Trump's six years later: Paul Manafort.
For all the ambiguous, suspicious facts surrounding Trump's ties to Russia, Manafort's role is the most straightforward. He is an utterly amoral consultant and spent at least a decade directly advancing Russian foreign-policy interests while engaging in systemic corruption.
The story begins in 2005, when Manafort proposed to work for billionaire Russian aluminum magnate Oleg Deripaska. Manafort, a Republican operative who had hired himself out to a variety of global villains, promised he would "influence politics, business dealings, and news coverage inside the United States, Europe, and former Soviet Republics to benefit President Vladimir Putin's government" in a memo
by the Associated Press.
Russia's oligarchs put their wealth and power at Putin's disposal, or they don't remain oligarchs for long. This requirement is not lost on Deripaska. "I don't separate myself from the state," Deripaska
in 2007. "I have no other interests." A 2006 U.S. diplomatic cable
him as "among the 2-3 oligarchs Putin turns to on a regular basis." Working for Deripaska meant working for Putin.
There's no doubt Manafort's offer was taken up. Deripaska hired Manafort for $10 million a year, and Manafort worked to advance Russian interests in Ukraine, Georgia, and Montenegro. Manafort brought on as his business partner in these endeavors Konstantin Kilimnik, a former member of Russia's foreign military-intelligence agency who — according to an indictment by Mueller — still has ties to Russian intelligence.
The mystery is exactly when, or whether, Manafort's service to Deripaska — which is to say, to Putin — ended. He has hidden many of his proceeds and indeed now faces charges of money laundering. In 2010, Manafort received a $10 million loan from Deripaska, which he funneled through his shell company. (Manafort had used the same shell company to buy an apartment in Trump Tower, for cash, in 2006.)
Spending lavishly and deep in debt, Manafort went underground in 2014. Deripaska, seeking to recover funds he believed Manafort owed him, went to court, where one of his lawyers
, "It appears that Paul Manafort and Rick Gates" — Manafort's longtime associate — "have simply disappeared." Two years later, Manafort resurfaced as Trump's campaign manager, with Gates as his deputy, and set out to use his position to regain favor with his estranged patron. In
to Kilimnik, Manafort referred to his new standing and asked, "How do we use to get whole?" Kilimnik assured Manafort, "We will get back to the original relationship." That is, Manafort was asking about, and Kilimnik was confirming, the possibility of trading his position as Trump's campaign manager for debt forgiveness from Deripaska.
This much was clear in March 2016: The person who managed the campaign of a pro-Russian candidate in Ukraine was now also managing the campaign of a pro-Russian candidate in the United States. And Trump's campaign certainly looked like the same play Putin had run many times before: Trump inflamed internal ethnic division, assailed the corruption of the elite, attacked Western allies while calling for cooperation with Russia, and sowed distrust in the fairness of the vote count. And in addition to deploying social-media bots and trolls, Russia apparently spent directly to help elect Trump. The FBI is
Alexander Torshin, a Russian banker who built ties to Republicans and allegedly funneled campaign funds to the National Rifle Association, which spent three times as much to help Trump as it had on behalf of Romney four years earlier.
Trump surrounded himself with several staffers, in addition to Manafort, with unusually close ties to Russia. His national-security adviser, Michael Flynn, had traveled to Moscow in 2015 to fête Putin at a banquet; George Papadopoulos met with Russian officials during the campaign; Russia had marked Carter Page as a possible asset. Michael Cohen and Felix Sater, the two business associates of Trump's with decades-long ties to Russian organized crime, engaged in a mix of diplomatic and commercial negotiations with Russia during the campaign.
Several Trump advisers knew Russia was working to help Trump. Papadopoulos let it slip that Russia had dirt on Clinton; Roger Stone, a former longtime business partner of Manafort's who
regularly with Trump throughout the campaign, knew what material WikiLeaks had obtained,
. Stone also repeatedly
of his back-channel contacts to Julian Assange and flaunted advance knowledge of what dirt Assange had. Between a pair of phone conversations Donald Jr. had to set up his Trump Tower meeting, he spoke with someone with a blocked phone number. (His father has a blocked phone number.) John K. Mashburn, a former campaign and current White House staffer, testified in March that he recalled receiving an email in early 2016 that Russia had negative information on Clinton.
Russia's hacking appears, in short, to have been common knowledge within the campaign. Despite that, Trump repeatedly denied that Russia had any involvement with the email hacking, suggesting China or a 400-pound man might be the true culprit. Trump and his advisers also made at least 20 false public denials that they had any contact with Russian officials during the campaign.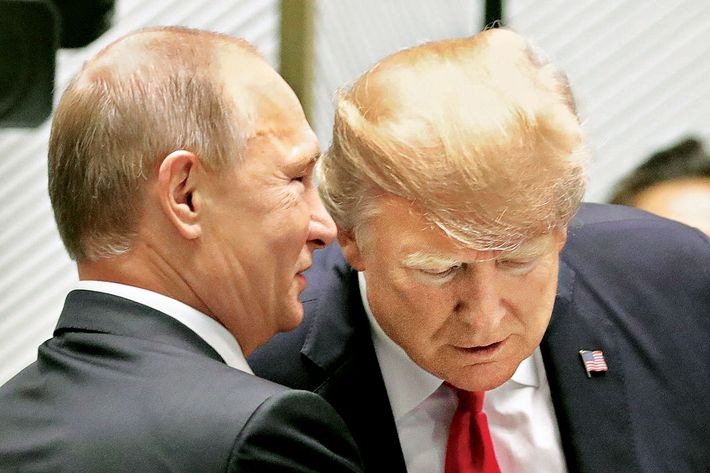 2017: Putin and Trump at the 25th APEC Summit in Vietnam. Photo: Mikhail Klimentyev/TASS via Getty Images
It is possible
that the current list of known campaign contacts accounts for most, or even all, of the direct cooperation. But that is hardly a safe assumption. Very little of the information we have about connections between the Trump campaign and Russia was voluntarily disclosed. The pattern of anyone implicated is to lie about everything, construct the most plausible-sounding cover story for the known facts, and when their lies are exposed, retreat to a new story. The Trump Tower meeting alone required three different cover stories over the course of two days as the truth dribbled out. (There is circumstantial evidence that Putin himself helped shape one of the stories: Trump
admitted
to speaking with the Russian president about adoption policy at a G20 dinner and, the next morning, dictating his son's misleading explanation that the meeting was about adoptions.) Stone testified to Congress that he had had no illicit contacts with Russians and repeated this defense fervently in public. When the Washington
Post
reported
that he had been offered campaign dirt by a man with a heavy Russian accent, Stone insisted he had forgotten about the episode.
How much more evidence of collusion is yet to come out? Maybe a lot more.
One example of the kind Trump's campaign may still be hiding came briefly to light two summers ago. In July 2016, a loose-knit community of computer scientists and cybersecurity experts discovered a strange pattern of online traffic between two computer servers. One of those servers belonged to Alfa Bank in Moscow and the other to the Trump Organization. Alfa Bank's owners had "assumed an unforeseen level of prominence and influence in the economic and political affairs of their nation," as a federal court
once put it
.
The analysts noted that the traffic between the two servers occurred during office hours in New York and Moscow and spiked in correspondence with major campaign events, suggesting it entailed human communication rather than bots. More suspiciously, after New York
Times
reporter Eric Lichtblau
asked
Alfa Bank about it but before he brought it up with the Trump campaign, the server in Trump Tower shut down. The timing strongly implied Alfa Bank was communicating with Trump.
In October, Slate's Franklin Foer
broke the story
of the servers and the computer scientists' analysis about what it seemed to mean, which he called "a suggestive body of evidence that doesn't absolutely preclude alternative explanations." When Foer's story landed, the political world treated it as insane. Vox, which had
dismissed
reports about Trump's secret Russian ties as "poorly evidenced conspiracy theories,"
savaged
the server report. The Intercept
called
it "wacky." Lichtblau reported that the FBI was investigating the server but that it "ultimately concluded that there could be an innocuous explanation, like a marketing email or spam, for the computer contacts."
That story became famous primarily for its headline conclusion, "Investigating Donald Trump, FBI Sees No Clear Link to Russia." And yet, CNN
reported
in March 2017 that the FBI's investigation into the server remained open. Meanwhile, the biggest mystery of Foer's story — why did Trump and Russia need a computer server to communicate? — now has a coherent answer.
It was already apparent in 2016 that the highest-profile parts of Russia's messaging machine, like RT and Sputnik, were biased toward Trump. But now we know that its social-media activity employed precise demographic and geographic targeting — far more precise than a foreign country would be expected to have and notably concentrated on "key demographic groups in areas of the states that turned out to be pivotal," CNN
reported
. That information is highly valuable: When a Republican staffer named Aaron Nevins received stolen Democratic Party voter-profile data from Guccifer 2.0, the Russian-backed hacker, that summer, he
wrote
to the hacker, "This is probably worth millions of dollars." The Alfa Bank server connection might not have been put to the exact same kind of collaborative purpose, but Russia's social-media operation needed
some
fine-grained expertise to direct its targeted messages. It likely got it from somebody connected to Trump and quite possibly used the server to transmit directly with Trump Tower. If that server was transmitting data to and from Moscow, who in Trump Tower was feeding it?
Since the election, Trump and his
advisers have continued to act like people who have a great deal to hide. In January 2017, Cohen
solicited
consulting payments from a firm controlled by a Russian oligarch and, when Flynn became national-security adviser,
delivered
to him a "peace plan" that would have consolidated the gains from Russia's invasion of Ukraine. In December 2016, Jared Kushner and Russia's ambassador
discussed
setting up a back-channel communications line through the Russian embassy. Erik Prince, the founder of Blackwater and brother of Trump's Education secretary,
traveled
to the Seychelles and met with a Putin ally in what European and Middle Eastern officials believe was another attempt to establish a back channel. Prince also
appears to have lied
to Congress about the meeting.
Of course, at that point, if Trump had legal diplomatic business to discuss with Russia, the president-elect could have held a normal meeting. It is possible to construct an innocent explanation for all the lying and skulduggery, but it is not the most obvious explanation. More likely, collusion between the Russians and the Trump administration has continued beyond the campaign.
The largest source of suspicion and curiosity is, again, Manafort. He left the campaign in August, when some of his ties to Deripaska were exposed and the campaign was floundering. But contrary to Trump's recent efforts to depict his relationship with Manafort as distant and short-lived, the two
continued
to speak regularly even after the inauguration. We know this because U.S. investigators had convinced a FISA judge to wiretap Manafort's phone.
Mueller has indicted Manafort on a series of white-collar crimes unrelated to the election itself. He has also convinced Rick Gates to cooperate with the investigation and plead guilty to conspiring against the United States. Trump has dangled the prospect of a presidential pardon to dissuade his former campaign manager from spilling his guts, but the pardon alone is not likely to spare Manafort a lengthy prison sentence. (Presidents can pardon only federal crimes, and Manafort is also facing prosecution for state-level crimes committed in Virginia and appears vulnerable to state charges in New York.) Manafort even allegedly took the reckless step of trying to coach a fellow witness to coordinate his story and was thrown in jail for it while he awaits trial.
Why would Manafort, who has a law degree from Georgetown and years of experience around white-collar crime, behave like this? Of all those in Trump's camp, he is the furthest thing from a true believer, and he lacks any long-standing personal ties to the president or his family, so what incentive does he have to spend most or all of his remaining years in prison rather than betray Trump? One way to make sense of his behavior is the possibility that Manafort is keeping his mouth shut because he's afraid of being killed.
That speculation might sound hyperbolic, but there is plenty of evidence to support it. In February, a video appeared on YouTube showing Manafort's patron Deripaska on his yacht with a Belarusian escort named Anastasia Vashukevich. In the video, from August 2016, Deripaska could be seen speaking with a high-ranking Kremlin official. The video was such a source of embarrassment to Moscow that it
fought
to have it removed from YouTube. Vashukevich, who was then in a Thai jail after having been arrested there for prostitution, announced that she had heard Deripaska describe a plot to interfere in the election and that she has 16 hours' worth of audio recordings from the yacht to support her charges. In a letter to America authorities, her associate wrote, "We risk our lives very much."
Vashukevich's name has disappeared from the news media. In all probability, either the FBI or Russian intelligence has gotten to her. Whatever has happened to her, her testimony suggests both that Russia is still hiding secrets about its role in Trump's election and that someone who knows Deripaska well believes he would and could kill her for violating his confidence.
The latter fear is hardly paranoid. Russia murders people routinely, at home and abroad. In the nine months after Trump's election, nine Russian officials were
murdered or died mysteriously
. At least one was
suspected
to have been a likely source for Steele. The attorney for the firm that hired Steele told the Senate last August, "Somebody's already been killed as a result of the publication of this dossier."
Here is another unresolved episode that might be weighing on Manafort's decision. In the summer of 2016, veteran Republican activist Peter W. Smith set out to obtain hacked emails from Clinton and contacted Matt Tait, a cybersecurity expert, for help in the project. Smith represented himself as working for the Trump campaign, though he had formed a Delaware-based company, as Smith wrote to Tait, "to avoid campaign reporting." Tait later
said
that he warned Smith that such a search would bring him into likely collusion with Russian hackers but that Smith "didn't seem to care."
At minimum, the episode is just another example of a person working for Trump who was eager to collude with Russia. It might indicate something more. In the spring of 2017,
Wall Street Journal
reporter Shane Harris found Smith and asked about this episode. Smith told Harris he had been acting independently of the Trump campaign. Within ten days of speaking with Harris, the 81-year-old Smith was
found dead
in a hotel room, with a bag over his head attached with rubber bands and two helium tanks. His suicide note claimed "no foul play whatsoever" and attributed his decision to a "recent bad turn in health since January, 2017" and the timing of his decision "to life insurance of $5 million expiring." Asphyxiation is not unheard of as a method of suicide, and Smith had
sold
his condominium the previous year under a foreclosure threat, evidence in favor of the hypothesis that Smith did indeed kill himself for financial reasons.
Harris
noted
, however, that when they spoke, "I had no indication that he was ill or planning to take his own life." Local police, who initially ruled the death a suicide, stopped taking questions shortly after his role in the campaign became widely known. Smith's family has not publicly affirmed that he committed suicide or that they had an expiring life-insurance policy, nor has the FBI
made any statement
about his death.
Smith may well have killed himself for the reasons cited in the note. Alternatively, he might have killed himself out of fear of being questioned by the FBI, or potentially he was killed by somebody else for that same reason. If he was, or if Manafort merely suspected he was, it would explain his otherwise senseless refusal to cooperate with Mueller's investigation.
In a Republican
meeting a month before Trump clinched the 2016 nomination, the recording of which later
leaked
, House Speaker Paul Ryan mused about how Russia "hacked the DNC … and, like, delivered it to who?" House Majority Leader Kevin McCarthy replied, "There's two people I think Putin pays: Rohrabacher and Trump." When others laughed, he added, "Swear to God."
When the Washington
Post
published this exchange in May 2017, Ryan and McCarthy indignantly insisted they were joking — but if so, it was a "joke" akin to a workplace watercooler joke that the angry misfit downstairs might one day shoot up the office. Dana Rohrabacher, a California Republican, has been known for years in Washington as "Putin's favorite congressman" for his idiosyncratic attention to, and support for, a wide array of pro-Russian positions. (He has worked to weaken sanctions meant to punish Russia for human-rights violations,
compared
pro-Russian separatists who helped Russia seize Ukrainian territory to the American Founders, and denounced the "hypocrisy" of U.S. opposition to the Crimean invasion.) He is widely suspected of having an ulterior motive. That Republican leaders would either gossip or joke about Rohrabacher and Trump in the same breath indicated a deep concern about the man who — as none of them expected at the time — would go on to win the presidency.
The leaked conversation also revealed something else about the Republican Party: Putin had, by then, made very few American allies. Among elected officials, Trump and Rohrabacher stood alone in their sympathy for Russian positions. Trump had drawn a few anomalously pro-Russian advisers into his inner circle, but by early 2017, Manafort had been disgraced and Flynn forced to resign, and Page had no chance of being confirmed for any Cabinet position. Trump's foreign-policy advisers mostly had traditionally hawkish views on Russia, with the partial exception of Secretary of State Rex Tillerson, the former Exxon CEO who had won a Russian Order of Friendship award for his cooperation in the oil business. (Romney had been Trump's initial choice for that position,
The New Yorker
reported, but Steele, in a separate dossier with a "senior Russian official" as its source, said that Russia used "unspecified channels" to influence the decision.)
Now that he's in office, Trump's ties to Russia have attracted close scrutiny, and he has found his room to maneuver with Putin sharply constrained by his party. In early 2017, Congress passed sanctions to retaliate against Russia's election attack. Trump
lobbied
to weaken them, and when they passed by vetoproof supermajorities, he was
reportedly
"apoplectic" and took four days to agree to sign the bill even knowing he couldn't block it. After their passage, Trump has
failed to enforce
the sanctions as directed.
Trump
also moved
to return to Russia a diplomatic compound that had been taken by the Obama administration;
announced
that he and Putin had "discussed forming an impenetrable Cyber Security unit" to jointly guard against "election hacking"; and congratulated the Russian strongman for winning reelection, despite being handed a card before the call warning: "Do not congratulate."
More recently, as Trump has slipped the fetters that shackled him in his first year in office, his growing confidence and independence have been expressed in a series of notably Russophilic moves. He has defied efforts by the leaders of Germany, France, Britain, and Canada to placate him, opening a deep rift with American allies. He announced that Russia should be allowed back into the G7, from which it had been expelled after invading Ukraine and seizing Crimea. Trump later explained that Russia had been expelled because "President Obama didn't like [Putin]" and also because "President Obama lost Crimea, just so you understand. It's his fault — yeah, it's his fault."
During the conference, Trump
told
Western leaders that Crimea rightfully belongs to Russia because most of its people speak Russian. In private remarks, he implored French president Emmanuel Macron to leave the European Union, promising a better deal. Trump also told fellow leaders "NATO is as bad as NAFTA" — reserving what for Trump counts as the most severe kind of insult to describe America's closest military alliance. At a rally in North Dakota last month, he echoed this language: "Sometimes our worst enemies are our so-called friends or allies, right?"
Last summer, Putin
suggested
to Trump that the U.S. stop having joint military exercises with South Korea. Trump's advisers, worried the concession would upset American allies, talked him out of the idea temporarily, but, without warning his aides, he
offered it up
in negotiations with Kim Jong-un. Again confounding his advisers, he has decided to arrange a one-on-one summit with Putin later this month, beginning with a meeting between the two heads of state during which no advisers will be present.
"There's no stopping him," a senior administration official
complained
to Susan Glasser at
The New Yorker.
"He's going to do it. He wants to have a meeting with Putin, so he's going to have a meeting with Putin."
Even though the 2018 version of Trump is more independent and authentic, he still has advisers pushing for and designing the thrusts of Trumpian populism. Peter Navarro and Wilbur Ross are steering him toward a trade war; Stephen Miller, John Kelly, and Jeff Sessions have encouraged his immigration restrictionism. But who is bending the president's ear to split the Western alliance and placate Russia?
If you're Putin, embarking upon a summit with the most Russophilic
president since World War II, who is taking a crowbar to the alliance of your enemies, why wouldn't you help him again in 2018 and 2020?Trump's determination to conciliate Putin can't be dismissed as casual trolling or some idle attraction to a friendly face. It has a serious cost: He is raising suspicions among the public, and among probably some hawkish Republican senators, whose support he very much needs against Mueller. His motive for these foreign-policy moves is obviously strong enough in his mind to be worth prolonging an investigation he is desperate to terminate.
There is one other way in which Trump's behavior has changed in recent months. As Mueller has plunged deeper into his murky dealings with Russia, the president has increasingly abandoned the patina of innocence. Trump used to claim he would be vindicated, and his advisers insisted his periodic fits sprang from an irrational resentment that Mueller was tarnishing his election and obscuring his achievements.
Trump barely puts much effort into predicting a clean bill of health anymore. He acts like a man with a great deal to hide: declining to testify, dangling pardons to keep witnesses from incriminating him, publicly chastising his attorney general for not quashing the whole investigation, and endorsing Russia's preposterous claims that it had nothing to do with the election at all. ("Russia continues to say they had nothing to do with Meddling in our Election!" he
tweeted
last month, contradicting the conclusion of every U.S. intelligence agency.) Trump's behavior toward Russia looks nothing like that of a leader of a country it attacked and exactly like that of an accessory after the fact.
"After" could be optimistic. The logic of Russia's role in helping Trump has not changed since the election. If Trump's campaign hired hackers to penetrate his opponent's communications or voting machines, they would risk arrest. But Putin can hire hackers with impunity. Mueller can indict Russians, and he has, but he can't arrest them unless they decide to leave Russia. Outsourcing Trump's hacking work to Putin made perfect sense for both men in 2016, and still does.
And if you're Putin, embarking upon a coveted summit with the most Russophilic president since World War II, who is taking a crowbar to the alliance of your enemies, why
wouldn't
you help him in 2018 and 2020? Ever since the fall of 2016, when Republican Senate Majority Leader Mitch McConnell privately
turned down
an Obama-administration proposal for a bipartisan warning to Russia not to interfere in the election, the underlying dynamic has been set: Most Republicans would rather win an election with Putin's help than lose one without it. The Democrats, brimming with rage, threaten to investigate Russian activity if they win a chamber of Congress this November. For Putin to redouble his attack — by hacking into voting machines or some other method — would be both strategic and in keeping with his personality. Why stop now?
Meanwhile, the White House has eliminated its top cybersecurity position. That might simply reflect a Republican bias against bureaucratic expertise. But it might also be just what it looks like: The cop on the beat is being fired because his boss is in cahoots with the crooks.
Shortly before Trump's inauguration,
according to Israeli journalist Ronen Bergman
, Israeli intelligence officials gathered at CIA headquarters, where they were told something astonishing: Russia, the agency believed, had "leverages of pressure" over the incoming president. Therefore, the agency advised the Israelis to consider the possibility that Trump might pass their secrets on to Russia. The Israelis dismissed the warning as outlandish. Who could believe that the world's most powerful country was about to hand its presidency to a Russian dupe? That the United States government had, essentially, fallen?
A few months later, Trump invited Russian diplomats into the Oval Office. He
boasted
to them that he had fired "nut job" James Comey. "I faced great pressure because of Russia. That's taken off." At the same meeting, Trump
passed on
to the Russians a highly sensitive intelligence secret Israel had captured from a valuable source inside ISIS. It was the precise danger Israel had been cautioned about.
Like many of the suspicious facts surrounding Trump's relations with Russia, it was possible to construct a semi-innocent defense.
Maybe he just likes to brag about what he knows. Maybe he's just too doddering to remember what's a secret.
And as often happens, these unwieldy explanations gained general acceptance. It seemed just too crazy to consider the alternative: It was all exactly what it appeared to be.
Photographs (collusion map): Allen Berezovsky/WireImage/Getty Images (Deng, Murdoch); Alex Wong/Getty Images (Rohrabacher, Kushner, Tillerson, Akhmetshin); Will Ragozzino/Patrick McMullan via Getty Images (Sater); Peter Foley/Bloomberg via Getty Images (Cohen); Al Drago-Pool/Getty Images (Ivanka); Drew Angerer/Getty Images (Trump Jr.); Cheriss May/NurPhoto via Getty Images (Trump); JorgeLáscar (Trump Tower); GeorgePapa19/Twitter (Papadopoulos); Lou Rocco/ABC via Getty Images (Page); Win McNamee/Getty Images (Flynn); Al Drago/Bloomberg via Getty Images (Manafort); Aaron Nevins (Nevins); Jacquelyn Martin/AP photo (Prince); Mark Wilson/Getty Images (Sessions); Michael Schwartz/Getty Images (Stone); Stanislav Krasilnikov/TASS via Getty Images (Kislyak); Valery Sharifulin/TASS via Getty Images (Yanukovych); Yury Martyanov/AFP/Getty Images (Veselnitskaya); Torshin_RU/Twitter (Torshin); Sergei Bobylev/TASS via Getty Images (Emin); Sasha Mordovets/Getty Images (Aras); Andrey Rudakov/Bloomberg via Getty Images (Dmitriev); Mikhail Svetlov/Getty Images (Gorkov); Chris Ratcliffe/Bloomberg via Getty Images (Deripaska); Simon Dawson/Bloomberg via Getty Images (Firtash); Lillian Suwanrumpha/AFP/Getty Images (Vashukevich); Valery Sharifulin/TASS via Getty Images (Emelianenko); Alamy (Hacker); Tolga Akmen/Anadolu Agency/Getty Images (Assange); Associated Press (Kilimnik); Pola Damonte via Getty Images (Moscow); Mikhail Klimentyev/TASS via Getty Images (Putin).
*This article appears in the July 9, 2018, issue of
New York
Magazine.

prof777prof@yahoo.com
Mikhail Kryzhanovsky