From: President of The Russian Federation
Executive Office
Directorate for Communication
Ilinka str, 23/16, Moscow
September 18, 2012
#A26-16-545097
To. M. Kryzhanovsky
We inform you the letter to you′ve sent via e-form was received by the President.
The letter has been sent to the Federal Protective Service.
A. Maksukov
Adviser, Directorate of Communication
Attention.
The Federal Protective Service (FSO) is a federal government agency concerned with the tasks related to the protection of several, mandated by the relevant law, high-ranking state officials, including the President of Russia, as well as certain federal properties. FSO includes the Russian Presidential Security Service. The FSO has roughly 50, 000 uniformed personnel plus several thousand plainclothed personnel and controls the Cheget that can be used in the event of global nuclear war.
It also operates a secure communications system for senior government officials. The FSO is a powerful institution with a range of rights and powers, including the right to conduct searches and surveillance without warrants, make arrests, and give orders to other state agencies.
FSO includes Special Communications and Information Service of Russia (Spetsviaz or SCID).
It is is a cryptologic intelligence agency of Russia responsible for the collection and analysis of foreign communications and foreign signals intelligence, as well as protecting Russian government communications and information systems, which involves information security and cryptanalysis/cryptography. It is the equivalent to the United States National Security Agency.
Putin appointed these two chiefs to be in charge of the "Hillary-2016" Project.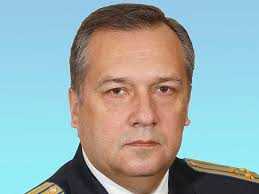 Dmitriy Kochnev, FSO Director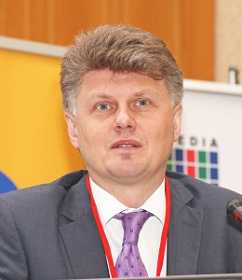 Alexey Mironov, the Special Communications and Information Director
Kochnev prepared the "Hillary" Project plan to be signed by Putin and executed by Mironov.
According to this plan SCID :
1. Had penetrated the servers of the Democratic National Committee and Debbie Wasserman Schultz, the DNC chair, Clinton campaign chairman John Podesta in person, whose private emails were published by WikiLeaks in the days leading up to the Democratic convention. Putin called the hacking and release of nearly 20, 000 emails from the DNC "a public service". The e-mails the DNC′s favoritism of Hillary Clinton over Bernie Sanders published by Wikileaks compromised Dems′ leaders and Hillary too.
2. Hacked Hillary Clinton′s personal phone and computer. All information was transferred straight to Trump who got the possibility to correct his strategy. And leaked to the public.
3. Hacked the 2016 elections.
How?
First, the attackers probed election offices well in advance in order to find ways to break into their computers. Second, closer to the election, when it was clear from polling data which states would have close electoral margins, the attackers spreaded malware into voting machines in some of the states, rigging the machines to shift a few percent of the vote.
Episode 7. $50, 000 for me to remove Obama
Part 1. A dinner with Obama
Trump and Obama hated each other. Right now I′m not going to tell you my version of Obama′s real biography.
What you′ll see is "passive sabotage technology" again which means that one or all three directors (CIA, FBI, Secret Service) work(ed) for Trump.
Kill Obama or go to FBI "special jail"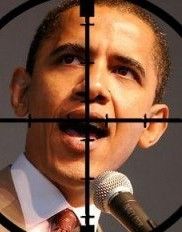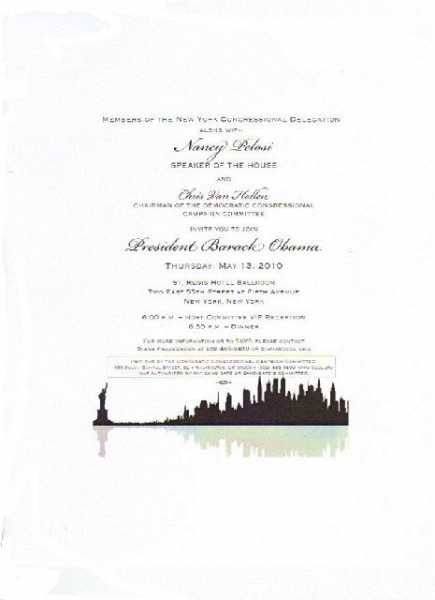 I got this invitation for a dinner with Obama in NYC – Trump wanted to set me up after the President′s assassination.
March 12, 2010, New York.
An invitation for a dinner with President Obama and Speaker of the House Pelosi came from DCCC (Democratic Congressional Campaign Committee) signed by Ian Sugar, Director of Development, Hillary Clinton's big friend. "Mike, we wanted to make sure you received this invitation for a very special occasion. We would love to have you be a part of this event. DCCC needs your support to fight for the American people. We hope to see you on May 13th in new York City".
So, I had to come to St. Regis Hotel, New York to join President Barack Obama Thursday, May 13, 2010 (St. Regis Hotel Ballroom, Two East 55th Street at Fifth Avenue, New York, New York). 6:00 p. m. – Host Committee VIP Reception 6:30 p. m. – Dinner
I got St. Regis ballroom plan. Actually, I could eliminate "Obama" but it's a suicide to work on the roof of the hotel.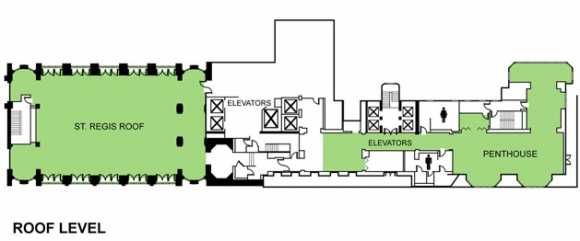 It wasn′t very complicated job if I would have taken it. All I had to do was: buy 9mm Zig Zauer (Secret Service pistol), practice shooting in the forest upstate, come to St. Regis unarmed, disarm any Secret Service fat pig and do the job.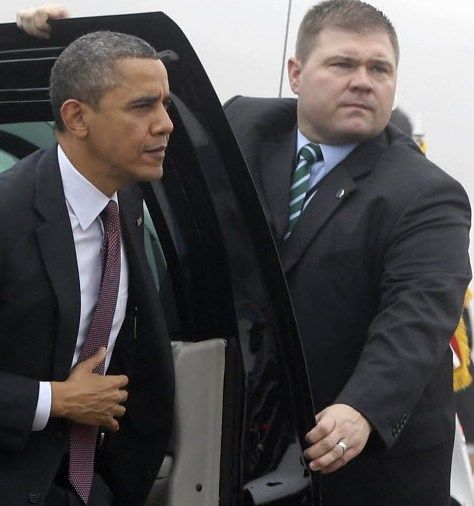 Obama protected by a pig.
The problem is, I′m 40 years in espionage business and I′m always listening to what my intuition says. It was a 100% CIA pre-assassination setup – I come, they kill "Obama", arrest me and kill me in a jail same day. Same thing they did to Lee Harwey Oswald.
It was a very serious problem and I′ve informed the U. S. Special Counsel Patrick Fitzerald.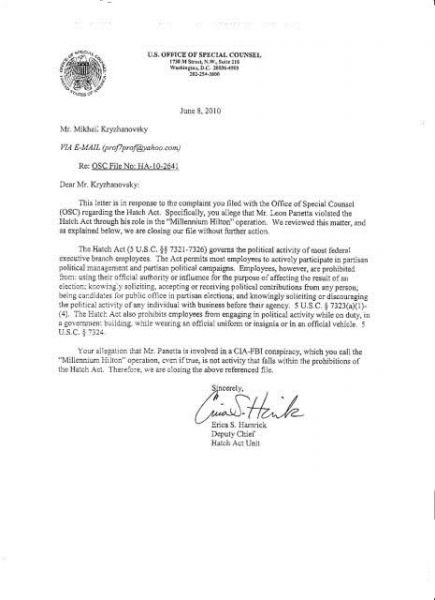 June 8, 2010
Bill Clinton and Obama′s murders were not Patrick Fitzerald′s ( the U. S. Special Counsel) business – he didn′t want to get a bullet from Mr. Mueller or Mr. Panetta
U. S. Office of Special Counsel 1730 M Street, NW, Suite 218, Washington, DC 20036, 202-254-3600 RE: OSC File No: HA-10-2641
Dear Mr. Kryzhanovsky,
This letter is in the response to the complaint you filed with the Office of Special Counsel (OSC) regarding the Hatch Act. Specifically, you allege, that Mr. Leon Panetta [CIA Director – M. K. ] violated the Hatch Act through his role in the "Millenium Hilton" operation.... We are closing our file without further action... The Hatch Act (5 U. S. C. p. p. 7321-7326) governs the political activity of most federal executive branch employees.... Your allegation that Mr. Panetta is involved in a CIA-FBI conspiracy, which you call the "Millenium Hilton" operation, even if true, is not the activity that falls within the prohibitions of the Hatch Act. Therefore, we are closing the above referenced file. Sincerely, Erica S. Hamrick, Deputy Chief, Hatch Act Unit
I've called the White House and sent e-mail to Barack Obama, telling the whole story and saving his life in such a way. Obama made a mistake – he asked Secret Service to look into the case.
And Secret Service sent a team to kill me
January, 20 2011
FBI special agent Eric Perry, FBI NYC field office (tel. 718) 286-7100), informed me that my actions [telling the truth – M. K. ] made "high authorities, people on the very top extremely nervous". Perry said I better disappear for some time if I don't want to end up at FBI "special jail".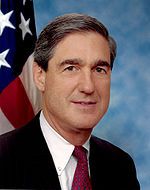 I have a question for Robert Mueller, Special Counsel who′s overseeing now the investigation into ties between President Trump's campaign and Russian officials :
FBI has its own secret jail in New York City to torture and kill people – is it constitutional?
I was sure CIA- FBI -Secret Service planned to kill me. I was right – the U. S. Secret Service Director Mark Sullivan sent a team of killers to hunt me.
October 12, 2010
I've got confidential information that two Secret Service teams were hunting me all over New York City: team #1 (two guys) and team #2 ( two guys and a woman).
Team #1 asked my friend to give me their phone number, so I could call them, emergency.
Team #2, armed with handguns, broke into my wife's apartment, searched it and interrogated her in a very rude manner, ordered her to keep their visit secret, took her PC and left. Soon after that my wife (we were separated) had a stroke and in 2013 she died.
I talked to team #1 on the phone and then I met them in a safe place. They said they came from Washington to stop team #2 from killing me. They also asked me to shut up about the dinner with Obama. I said: "If they want to kill me, tell them to put a sniper in a house across the street – I′m not scared". They got very nervous and asked me to slow down and stop talking if I don't want problems.
I got team #2 members' names Here they are, my killers: Chris Lienemann, special agent, tel. 718-840-1263, Susan Klemm, special agent, tel. 718-840-1448, Gene Gurevich, special agent, tel. 718-840-130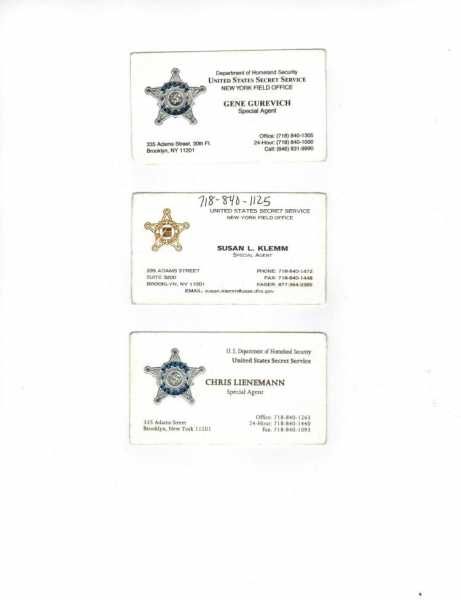 Part 2. Trump and $50, 000
The story starts with Jerry Corsi, an American author, WorldNetDaily political commentator best known for his New York Times bestselling books The Obama Nation, Unfit for Command and Where′s Birth Certificate, personal Obama′s enemy. He investigated Obama′s life in details and proved that the president wasn′t born in USA and his presidency is illegal.
The WorldNetDaily (WND) is a very popular and influential radical Conservative website which supported Donald Trump′s very aggressive anti-Obama campaign to remove him from the office as a fake US citizen.
April 12, 2012, Queens, S. Richmond Hill, New York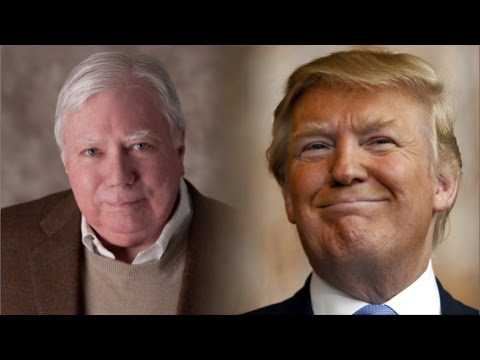 Jerry Corsi came to see me (he lives in New Jersey) after we communicated for couple of days via e-mail about our anti-Obama investigations – read my full version of Obama′s real biography below.
Corsi brought me his book "Where′s Birth Certificate" and gave it to me for "my courage". We talked three hours at the nearest café. He was impressed by my experience as a spy and KGB sniper. We made arrangements for the next meeting and Corsi promised me some big and important job.
May 20, 2012, same place
Corsi brought a simple anti-Obama conspiracy plan. A big fake.
I had to go back to Russia and find 2 former KGB officers who allegedly knew that Obama was working for KGB intelligence. These officers had to write down personal statements and didn′t have to sign them with their legal names. I come back with the papers and "anonymous sponsor" pays me through Corsi $50, 000. Sponsor wants to remove Obama from the Oval Office.
Anonymous rich sponsor paying cash.
Trump.
Money was big, but there was a problem. CIA was watching me on the daily basis and I could never leave USA alive for this conspiracy trip.
Corsi was angry – I understood him. if Trump pays me $50, 000, WND guys and Corsi could get a million.
I said "No". I can imagine how angry Trump was.
Now I have a question for president-elect Trump.
Corsi asked me how good I am as a sniper. Mr. Trump, you still want me to kill Obama?
JAMES B. COMEY
FBI Director
601 4th Street NW, Washington, DC 20535
(202) 278-2000
November 14, 2016
Dear Mr. Comey,
I′ve been working for CIA and FBI since 1995, and you know me as "Filament".
I′m ready to cooperate with you on Donald Trump′s attempted Barack Obama′s murder.
Mikhail Kryzhanovsky (CIA and FBI "Filament")
November 14, 2016, WND
by Jerome Corsi
WND AUTHOR RECOMMENDED FOR JOB IN TRUMP ADMINISTRATION
Could fill 1 of 2 key positions for president-elect.
A supporter of Donald Trump from early in his candidacy, WND author and Oxford professor, an American citizen by birth, Theodore Malloch is being referred to the Trump transition team as a candidate for either ambassador to the United Nations or to the United Kingdom.
Episode 8. Trump to kill Hillary Clinton
Introduction
Strange meeting 2006
August 9, 2006, Lefrak City, Queens, New York
At 8 A. M. I saw a flyer next to the door of my apartment – this one.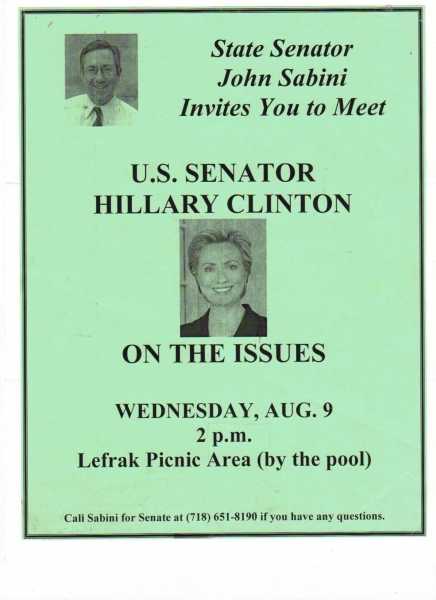 ATTENTION : There were no other flyers in Lefrak City – why? It was a personal message from three directors – she is the one we want you to kill.
Now, do you know what's Lefrak City?
It's 10 old brick 18-floor projects for poor African-Americans, Latinos, and Russians. The most dangerous area in Queens and the New York State, stuffed with street gangs, crack cocaine, prostitutes and illegal guns. In two minutes I was at the place – just to make sure a Senator and a former First Lady Hillary Clinton is protected by the "best of the best" – the U. S. Secret Service.
I was sure they watched the area for the last 24 hours. I was sure the access to the area is restricted. I was sure that one week before the event local police and FBI instructed the secret sources to stay at alert and report any suspicious activity and people who had or tried to purchase illegal guns, and who want to kill Hillary Clinton. I was sure bad guys and aggressive psychos were isolated temporarily or monitored at least. I was sure technicians checked the air, soil and water (in the open pool) for radioactivity and toxic substances, looked for explosives and brought a trained dog. I was sure there was no access to a single roof and they put metal detector at the entrance to the area. I was sure they double checked the guest list. Kill me, but I was dead sure the Secret Service team would never let any bad guy approach Hillary. I was wrong.
8. 30 A. M. Nothing, nobody.
The place was a heaven for terrorists: – a circle of six 18-floor-1500-window buildings (such meetings in the open areas close to residential buildings are not allowed for people guarded by Secret Service ) – a playground; – an open stage under a small roof (no walls) – a BBQ place – a pool.
And 6 hours to get ready for assassination: – observe the place and plan the operation – put a mine under a stage – try a silenced sniper rifle from the roof and make necessary corrections if there are any deviations – place the whole army of terrorists all over the place.
ATTENTION : I′ve checked one roof – the door was open, thank you.
11 A. M. Two girls, three assistants, free "Pepsi", 2 cops, no restriction, not even a "Don't cross" tape. 1 P. M. About 500 people came to the playground – retired old men and women, homeless alcoholics, drug addicts, screaming psychos, kids, teens and reporters. 2. 30 P. M. People screamed like crazy when Hillary finally appeared and tried to make her way through the crowd. Any psycho could kill her with a kitchen knife – cops and two Secret Service agents were as passive as they could. She got to the stage encircled by a wild, absolutely uncontrolled crowd. One agent was standing behind her, another one – on the stairs. No security.
She made a 15 minutes speech and then I've witnessed a total uncontrollable chaos – still on the stage, she tried to shake hands and people went wild; somebody gave her flowers (absolutely unacceptable thing), somebody asked her to hold a baby to make pictures; people screamed and pushed each other. Agents paid no attention, chewing gums, proud of their James Bond style sunglasses. Poor Sabini asked people to move away – nobody cared. Only when young girls jumped up on the stage, police officer restricted the place with a yellow tape – the Secret Service guys were surprised (! ) At 3. 30 P. M. she left the playground and had to move through the crowd again.
Part 1. Trump attempted to assassinate Hillary Clinton using me as a sniper.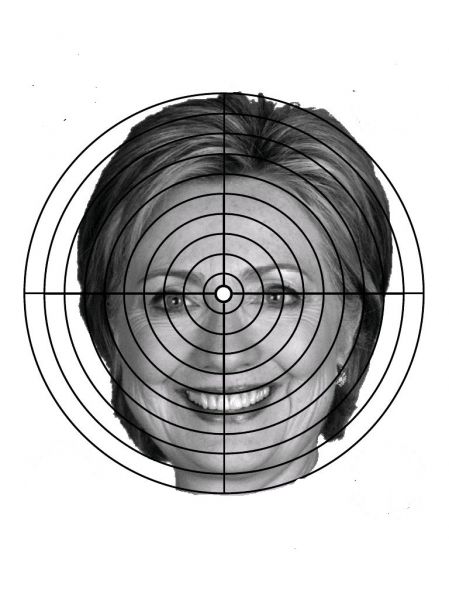 1. Instruction on KGB regular assassination technology I wrote for CIA back in 1996.
Shooting, using explosives or poison. You must use a sniper or a "mouse" car (loaded with explosives and parked on the object's route) if access to the object is impossible because of high security. Anyway, the murder is obvious and investigation is inevitable.
General scheme (if you use a sniper).
The best thing to do is to recruit somebody with access to the object's security system and get information on his