ATTENTION. November 9, 2017
President Donald Trump′s long-time confidant Keith Schiller privately testified that he rejected a Russian offer to send five women to then private-citizen Trump′s hotel room during their 2013 trip to Moscow for the Miss Universe pageant, according to multiple sources from both political parties with direct knowledge of the testimony. Schiller, Trump′s former bodyguard and personal aide, testified that he took the offer as a joke, two of the sources said. On their way up to Trump′s hotel room that night, Schiller told the billionaire businessman about the offer and Trump laughed it off, Schiller told the House intelligence committee on November 7, 2017.
After several minutes outside of Trump′s door, which was Schiller′s practice as Trump′s security chief, he said he left.
6. After the pageant was over, SVR officers met Trump at the hotel and left a tape and a phone number. He had no choice. They were back and he signed the regular agreement: "I, Donald Trump, agree to help SVR and improve Russian-American relations. I′ll sign my confidential reports with the alias "__________". November 9, 2013".
I think, his alias is "Tom" – Russians like when the first letter of the last name and the alias are the same.
7. Trump is the SVR secret source since 2013. Putin met him in person and he understood that this guy might be "promoted" to the U. S. President. Putin ordered fantastic operation and the result was perfect – on November 8, 2016 Trump was elected the U. S. leader.
8. Putin ordered Trump to do a very important job – to prepare the American-Russian Friendship and Cooperation Treaty which has to exclude the possibility of the world war and keep Russia safe for at least Trump′s two presidential terms.
"Golden" rules you follow handling Trump
1. Do not tell Trump about problems and mistakes of the agency, about your personal problems, about other agents, about his own file and compromising information you have on him.
2. Don't show Trump any classified documents – you might provoke him to sell the information to somebody else.
3. Don't trust Trump too much; they can use you to compromise their personal enemies.
4. Never criticize Trump – be an adviser. Don't talk straight if he avoids cooperation or brings you garbage – just reduce or stop payments, or get rid of him.
5. You lose Trump if you don't pay him for a job well done, ask him to "produce" fake information (to show your bosses how much great espionage activity you have going on) or if you don't care about his personal security and his personal problems (health, career). And — never give poison to your agent for security reasons..
Questioning Trump
This is of extreme importance – the right question brings you the right answer and top secret info. Give Trump a chance to tell and show you everything he's brought, no matter how chaotic the story might be or how ordinary the documents look. Don't make written notices. Don't bring written questions even if you are talking about some advanced technology — look and be professional. Don't let Trump analyze the information before he talks to you and don't let him bring it in a written form – it's usually not complete; he can lose it; or it may be stolen from him. If there are documents, he has to bring a microfilm. Ask questions — when? where? what happened? why? what's going to happen next?
After that you tell the story back to Trump and he adds details. At the end of the meeting give the agent another task and don't ask him to bring you "something, " because he'll bring you just that "something" and nothing else.
Remember, questioning is not interrogation; do not bring another officer to the meeting because it will look like cross interrogation.
Teaching Trump
Teach your Trump to:
– follow security rules while talking to people, working with the documents and especially meeting the officer (some foreign agencies practice open contacts with many people, hoping that the meeting with the agent won't attract much attention — I don't recommend that)
– always stay calm in stressful situations
– always keep discipline and come in time
– use analytic abilities working with people and documents – ask yourself as many questions as you can
Checking Trump
You can never be sure you are not working with a "double agent, " even if he brings you top secret stuff. Besides, agents are human beings and they make mistakes — they forget about security, spend too much money, talk too much and ask extra questions; if arrested they may not play the hero but will tell everything. Anyway, you can check Trump:
a. by fake arrest followed by severe interrogation.
b. through provocation (tell him you know about his "double game" and watch his behavior after the meeting (it's good to have a listening device or a camera in his house).
c. by making an analysis of all the information and documents he delivers and comparing it with information from other sources.
d. through other agents.
e. through your "mole" in counter-intelligence (if you're lucky).
f. through technical devices (reading the mail, listening to the phone, secret searching his house and office, watching him through hidden cameras, trying surveillance in the street).
Trump termination (one-way ticket)
It doesn't happen often but you have to know some special situations when you have to terminate Trump:
1. Trump knows too much (talks too much) and is ready to betray you.
2. Trump is under suspicion and you can't help him for political reasons (diplomatic, international scandal, etc. ) — in such a case an accident could be staged. It happens that the agent is too close to President.
3. Trump was involved in special operations (murders) and is dangerous as a witness.
4. Trump is trying to blackmail you.
5. You need to press (blackmail) other agents.
Putin wants Trump to boil America up
"President" Trump and his boss, the U. S. President Ivanka have a hell of a job to do in 2017.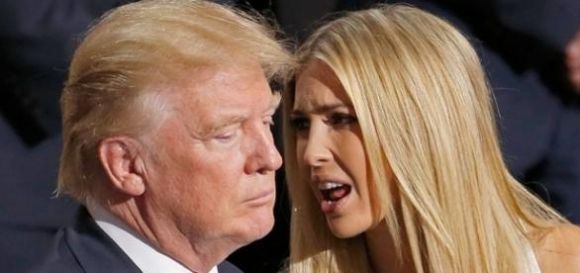 On one side, they have listen to Rockefellers who placed them in the Oval Office and pay back with World War III against Russia for Russian resources. They already tried to push Russia into a civil war in Ukraine – and failed. They tried to get Russia into Syrian mess – and failed. Now they try to play North Korean card – it′s a dead end.
On the other side, Trump was blackmailed and recruited by Russian President Putin (read the story below) and have to work for him and explain somehow the business to Ivanka.
Putin, a former KGB spy, said once that collapse of the Soviet Union was the biggest tragedy of the 21st century. KGB officers never joke in public.
Putin meant revenge.
And revenge is the U. S. civil war – religions +races+radical leftists – which has to cut the country into pieces and eliminate it before the World War III starts.
This is the preemptive Russian attack which is much more powerful than nuclear missiles.
That′s why Trump daily turns the government and the nation into chaos and hatred.
Bravo, Putin!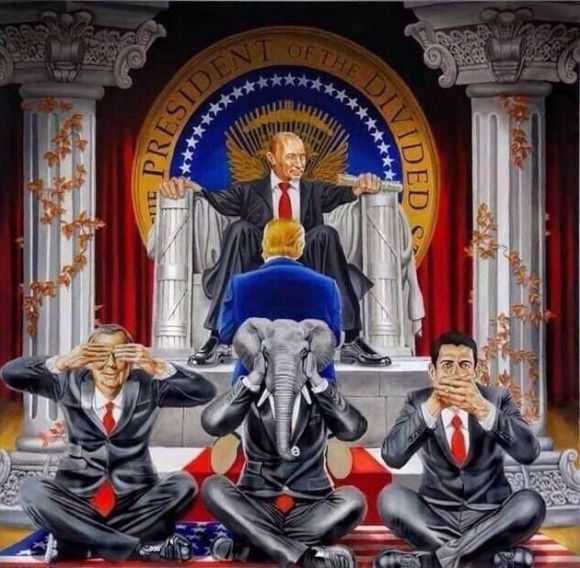 How Putin paid Trump
January – August 2017
Russian oligarch Victor Vekselberg, who has an estimated worth of $13 billion, a close friend of Putin, wired $500, 000 into a First Republic bank account registered to Trump′s personal lawyer Michael Cohen′s Essential Consulting Co.
The money was routed to Cohen in 8 payments from Columbus Nova, a Manhattan-based investment firm owned by Vekselberg′s American cousin Andrew Intrater. Richard Ownes, an aatorney for Columbus Nova, explained that the wire transfers were issued after the firm hired Cohen as a business consultant.
Episode 3. How Putin handles Ivanka, Kushner, Flynn, Bannon
1. Ivanka Trump and daddy love terrorists
First, Putin, Ilham Aliyev, the President of Azerbaijan and Hassan Rouhani, the President of Iran are best friends, united by common economic and geopolitical interests. Putin is the boss and American activity in these countries, including Trump′s business interests, connected to terrorists, is under his strict control.
Second, Putin, not two other presidents, allowed Trump′s and Ivanka′s business there.
ATTENTION : It′s very important to have a compromising information on your agents – to press them in case they avoid cooperation.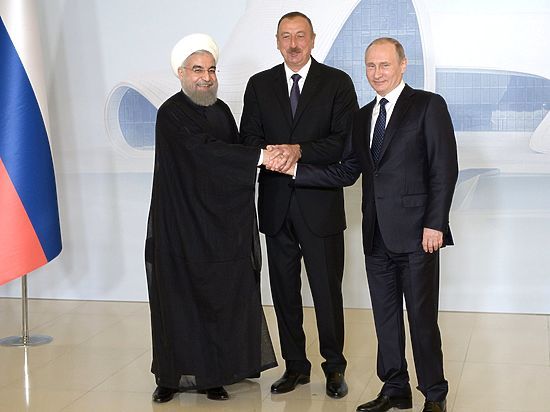 Rouhani, Aliyev, Putin at 2016 summit in Baku
Donald and Ivanka Trump's phony Baku Azerbaijan hotel was front for Iranian money laundering.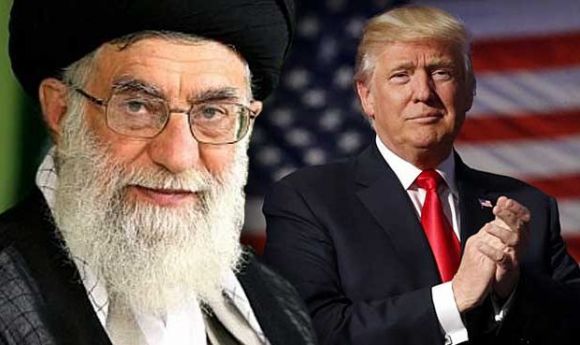 Ali Khamenei, Iranian Supreme leader and Trump, his asset
Americans have to know that right after taking office, Donald Trump abandoned a bizarre hotel project in Azerbaijan which never made any sense to begin with. It was built in an industrial part of town where a hotel wouldn't be needed. The roads being built to the hotel didn't even lead to it. And now it turns out the entire hotel project appears to have been little more than an excuse to illegally launder money coming from the Iranian Revolutionary Guard.
The Trump International Hotel & Tower Baku project was spearheaded by Donald Trump's daughter Ivanka Trump, who repeatedly visited the property and posted photos of herself touring it, even though as best anyone can tell the hotel was never going to open or do any business. It appears in hindsight that Ivanka had merely been doing all of this in order to create the outward appearance that the hotel was a legitimate project.
Аs it turns out, the hotel deal had been struck with Ziya Mammadov, the corrupt Transportation Minister of Azerbaijan, who has a history of arranging shady real estate projects as money laundering fronts. Mammadov and his family have deep financial connections to the Iranian Revolutionary Guard, making it almost certain that the Trumps were knowingly and illegally doing business with Iran. It also seems likely that Trump shuttered the project upon taking office in the hope it wouldn't be investigated.
Тhe legal responsibility falls on U. S. citizens to be aware of which foreigners they're doing business with. So even if Donald and Ivanka Trump try to claim ignorance in this instance, it wouldn't legally get them off the hook.
So, Ivanka Trump and her father are working for Ali Khamenei, Iranian Supreme leader.
Iranian Revolutionary Guard provides support for Hamas, Hezbollah and Islamic Jihad in Israel, and has given much support and training to terrorists supporting the Palestinian resistance. They are aiding the Iraqi insurgency in southern Iraq. On September 26, 2007, the United States Senate passed legislation by a vote of 76-22 designating the Iranian Revolutionary Guards as a terrorist organization. U. S. President George W. Bush and Congress labeled the group under the guidelines established by Executive Order 13224 issued after the September 11, 2001 attacks.
In August 2012, Ayatollah Ali Khamenei instructed the Revolutionary Guards and Quds Force to increase their terror attacks due to what the Iranian government perceived as their interests being threatened by United Nations sanctions and the West′s support of Syrian opposition.
In January 2017, Saudi Deputy Crown Prince Mohamed Bin Salman said that Iran represents "the three main ills of the region" which are "borderless ideologies, state instability, and terrorism" and that there is "no point in negotiating with a power that is committed to exporting its exclusivist ideology, engaging in terrorism, and violating the sovereignty of other nations".
2. Trump Jr met SVR (Russian intel) agents... and?
WHY TRUMP JR, KUSHNER AND MANAFORT WERE RUNNING TOGETHER TO THIS MEETING?
BECAUSE THERE WAS B I G M O N E Y.
July 10, 2017

Donald Trump Jr gave fake information about the subjects allegedly discussed at the meeting, which took place on June 9, 2016, in Trump Tower in Manhattan. In addition to Trump Jr., the president's son-in-law Jared Kushner and Trump′s then-campaign chairman Paul Manafort attended the meeting with Russian attorney Natalia Veselnitskaya.
"I was asked to have a meeting by an acquaintance I knew from the 2013 Miss Universe pageant with an individual who I was told might have information helpful to the campaign, " Trump Jr. said. "I was not told her name prior to the meeting. I asked Jared and Paul to attend, but told them nothing of the substance.
"We had a meeting in June 2016. After pleasantries were exchanged, the woman stated that she had information that individuals connected to Russia were funding the Democratic National Committee and supporting Ms. Clinton. Her statements were vague, ambiguous and made no sense. No details or supporting information was provided or even offered. It quickly became clear that she had no meaningful information".
Trump Jr. said that Veselnitskaya then changed the subject and began discussing the adoption of Russian children and moved the conversation towards the Magnitsky Act -- a 2012 bill that blocks certain Russian officials′ entrance to the U. S. and their use of the U. S. banking system. After the act was passed, Russia stopped allowing Americans to adopt Russian children. Veselnitskaya is best known for her work against the Magnitsky Act.
"It became clear to me that this was the true agenda all along and that the claims of potentially helpful information were a pretext for the meeting. I interrupted and advised her that my father was not an elected official, but rather a private citizen, and that her comments and concerns were better addressed if and when he held public office, " Trump Jr. said in his statement.
"The meeting lasted approximately 20 to 30 minutes. As it ended, my acquaintance apologized for taking up our time. That was the end of it and there was no further contact or follow-up of any kind, " he said.
Trump Jr. added that his father knew nothing of the meeting.
RUSSIAN KGB OFFICER RINAT AKHMETSHIN WAS PRESENT AT THE MEETING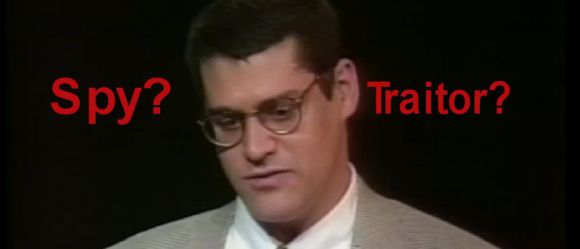 Rinat Akmetshin was present at the meeting – he came together with Veselnitskaya.
An admitted former Russian spy who now works as a lobbyist in Washington and has been tied to the creators of the unverified Trump dossier [his 2013 Moscow recruitment by Russian SVR – M. K. ] may have lobbied against Russian sanctions, according to a letter by Sen. Chuck Grassley (R-IA).
Grassley requested all immigration information available on Rinat Akhmetshin, a Russian citizen who became an American citizen in 2009, in a letter written Tuesday. He cited a July 2016 complaint alleging Akhmetshin had not registered as a foreign agent as required by law. Akhmetshin was described by Radio Free Europe as a "Russian gun-for-hire [lurking] in the shadows of Washington′s lobbying world. " In one interview, he admitted to having worked as a Soviet KGB counterintelligence officer. In another interview, he denied it. He would have had to mention his intelligence work when applying for U. S. citizenship.
He allegedly worked with Fusion GPS, the company behind the unverified dossier that claimed ties between President Trump and Russia.
4. General Flynn : how Putin awarded him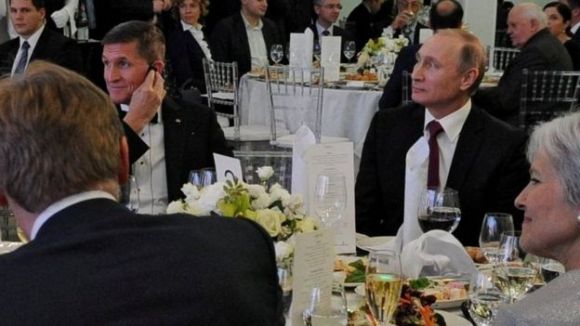 December 10, 2015, Moscow
President Putin and Mr Flynn attended the gala dinner in honour of Russia′s RT television network.
Donald Trump's embattled National Security Adviser led a standing ovation for Vladimir Putin during a gala. Flynn didn't just join the standing ovation for Putin. He started it.
In a video posted by the Democratic Coalition Against Trump, not only did Flynn joined in the standing ovation following Putin's speech, but on closer examination, it's clear that Flynn and the woman next to him led the standing ovation for Putin.
Flynn had the honor, along with Jill Stein (who also joined in the ovation), of sitting at Putin's table.
Take a look at these photos from the beginning of the ovation. First, the larger photo showing only Flynn and the woman next to him standing as Putin finishes. Then a close-up.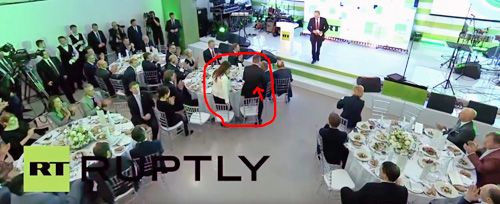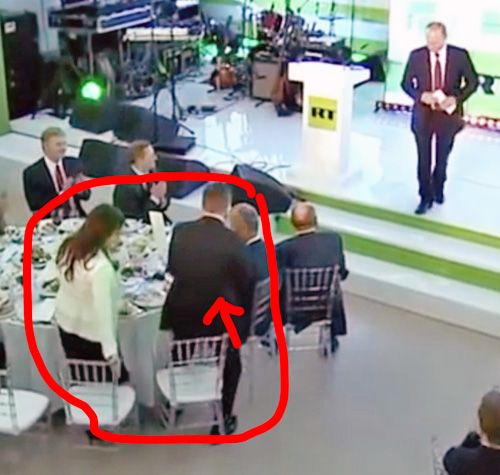 June 4, 2017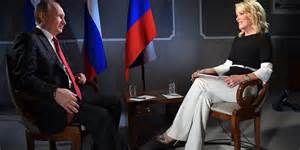 During the interview broadcast by NBC News′ Sunday Night with Megyn Kelly, Putin played down his contacts with the American general:
"I made my speech, then I talked about some other stuff, then I got up and left. And then afterwards I was told ′Do you know that was an American gentleman and he was involved in some things? He used to be in the security services. ′ That′s it. I didn′t even really talk to him. "
Putin also rejected as "another load of nonsense" claims that the Kremlin had any damaging information on President Trump.
Putin can lie to Megan Kelly, Donald Trump, America and the rest of the world.
Putin can′t lie to me.
Because he knows me as we removed Hillary Clinton from the 2016 race together.
Because we′ve graduated same KGB Intel Institute (Putin – 1985, me – 1987).
Because we were both KGB spies.
Because I′m 40 years in espionage and I′m the author of Espionage and Counterespionage Handbook.
Because I′ve protected A. Gromyko, the USSR Supreme Soviet Chairman, in 1985 and I know perfectly well how the system works.
So, why he lied to Megan Kelly?
Do you know how many special FSO Service (former KGB 9th Department) agents protect Putin?
10, 000 (ten thousand)
And Putin tells me they had no idea who′s sitting next to him at RT gala?
And Putin wants to tell me they didn′t inform him that Michael T. Flynn is:
– a retired United States Army lieutenant general
– a former Director of the Defense Intelligence Agency (top U. S. military spy and top Russia′s military enemy! )
– a former Commander of the Joint Functional Component Command for Intelligence, Surveillance and Reconnaissance (top of the top secret position! )
– A former Chair of the Military Intelligence Board (! ) – no comments.
Putin, a former KGB spy, the President of Russia, didn′t know he was sitting next to Russia′s #1 enemy. Then he had to fire all 10, 000 idiots. No, he had to shoot them. And kill himself. But he didn′t.
WHY?
Because Flynn is SVR (Russian Intel Service, former KGB) asset.
Because sitting next to Putin was a "medal" for his treason.
Because there′s an old KGB tradition when KGB Chairman or even the President of the country takes picture together with the asset.
That′s why Vladimir Putin had no choice but to lie. More evidence? No problem.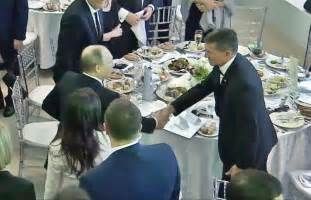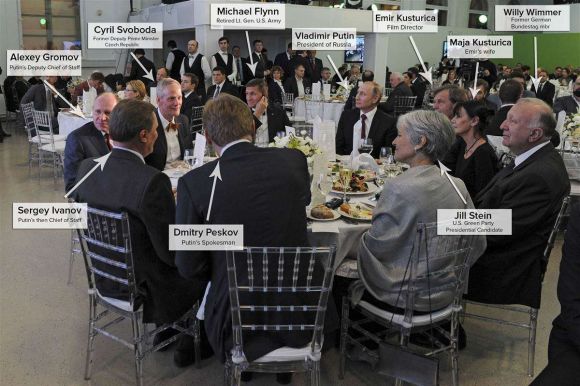 Episode 4. How to remove Trump : schizophrenia
November 20, 2017
White House national security adviser H. R. McMaster said President Trump had the intelligence of a "kindergartner" and called him an "idiot" and a "dope" during a private dinner over the summer in Washington. Sources told BuzzFeed that McMaster mocked Trump's intelligence during a dinner in July with Safra Catz, the CEO of software company Oracle.
Catz "said the conversation was so inappropriate that it was jaw-dropping. "
McMaster also reportedly mocked the president's intelligence to another source in private, saying Trump didn't have the brainpower needed to grasp the issues the National Security Council addresses. The source was unaware of the national security adviser's remarks at the July dinner, which took place at a local restaurant.
McMaster reportedly said Kushner, the president's son-in-law, shouldn't be working in the White House and on national security issues.
McMaster isn't the first administration official reported to have criticized Trump's intelligence. Tillerson called the president a "moron" during a meeting at the Pentagon in July, NBC News reported. The State Department denied Tillerson made the remark.
I recommend the Democrats to introduce a bill under the 25th amendment that Trump needs to be removed for mental illness.